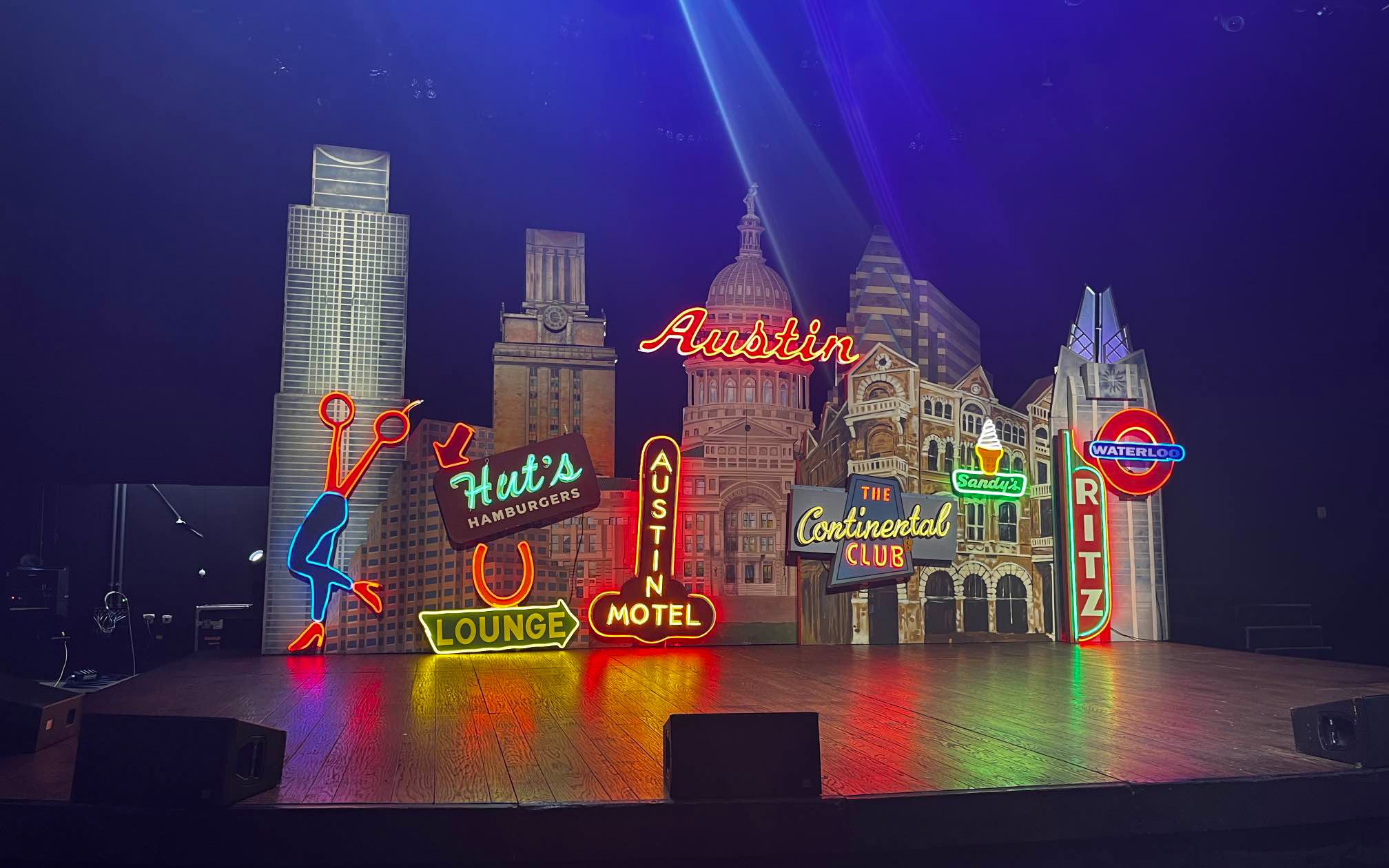 Frequently Asked Questions
How do I purchase tickets in advance?
You can purchase tickets online at acllive.com, axs.com or at our venue box office.
What are the ACL Live box office hours?
Currently, the box office is only open on event days and will open one hour prior to door time for ACL Live shows (not tapings) and one hour prior to showtime for 3TEN. Ticket inquiries can be emailed to info@acllive.com.
Where is the ACL Live box office located?
The box office is located on 2nd street between Lavaca and Guadalupe, next to the ACL Live retail store.
How far in advance of the show should I arrive at ACL Live?
We recommend adding at least 30 minutes to the time that you would normally allocate for arrival. All patrons are subject to wanding and bag searches upon entry.
Can I park at the W Hotel for ACL Live shows?
Limited valet parking is available at the W Hotel for ACL Live ticketholders on a first-come, first-served basis. Additional suggestions for getting to the venue are available on our parking page.
Can you buy tickets here to see ACL tapings?
Are all ACL Live shows Austin City Limits tapings?
What items are prohibited from the venue?
Prohibited items include all weapons including pocketknives, oversized bags, backpacks, outside food and beverage, cans, bottles, alcohol, drugs, laser pens, utility tools, masks (and facepaint), banners, laptops/ tablets, musical instruments, video cameras, monopods, tripods, audio recording devices (unless special permission is granted), drones, selfie sticks and cameras with telephoto or zoom lenses. Austin City Ordinance prohibits smoking at ACL Live.
ACL Live uses entrance screening procedures similar to security standards at many larger venues, arenas, and stadiums across the country. These measures include walkthrough metal-detecting wands and enhanced bag checks. Security screening provides minimal guest disruption, but we encourage those coming to an evening show or event to allow extra time for screening. Guests will be asked to remove certain metal items from their pockets before entering the walkthrough metal detectors. Individuals who are unable to use the walkthrough detectors will have the option to be screened with a handheld metal detecting wand.
Weapons are not permitted inside the facility. No firearms (with or without a permit) are allowed at ACL Live.
What are ACL Live's COVID protocols?
COVID safety procedures vary from event to event based on performer preference. If no restrictions are listed, none are currently in place for that performance.
Can I transfer my Will Call tickets to someone else?
Yes. Prior to the day of the show you may contact AXS Customer Support to transfer Will Call tickets.  However, on the day of a show the original ticket holder must come down to the venue once we are open for the event and show driver's license or photo ID in order to retrieve Will Call tickets.
I've never been to ACL Live before, do I get a seat or is it general admission?
There are approximately 1,500 fixed seats shared between the balcony and mezzanine levels of ACL Live at the Moody Theater. The floor level can be seated or general admission standing depending on the show. 3TEN is also general admission depending on the show.
Can I leave the venue and come back?
The general policy for the venue allows re-entry; however, you must present your ticket again at the door. Any shows that do not permit re-entry will be clearly indicated at the door. All patrons are subject to wanding and bag searches upon each entry.
Where can I find set times?
What type of payment is accepted at the bar?
The bar will accept cash as well as Visa, Mastercard, Discover, and American Express credit cards.
Is there an ATM in or near the venue?
There are two United Heritage CU ATMs located on site. One can be found in the alcove near the ticket window and the second is on the west side of the venue porch. There is an additional United Heritage CU ATM inside the W Hotel lobby.
Do I need an ID to enter the venue?
Patrons will not need to show an ID to enter the venue, but an ID will be required to pick up Will Call tickets and to purchase alcoholic drinks once inside.
Can I smoke in the venue?
Because we are a LEED Certified venue, we are also a non-smoking facility. Smoking is allowed on public sidewalks.
What accommodations are made for people with disabilities?
The venue has elevator access to all levels. Accessible seating, along with companion seats, is available as well. Please contact us at info@acllive.com.
Backpacks and large bags that exceed 11"x17" are not allowed. Necessary diaper bags and medical bags are subject to inspection before entry. All bags and purses are subject to inspection.
Where is the lost and found located?
Can I bring a camera/audio or video recording equipment?
No professional photography equipment or audio/video recording equipment will be allowed into the venue. Only cameras without detachable lenses and that are smaller than a shirt pocket will be allowed into the venue.
What happens if an event is cancelled or postponed?
If a show is cancelled, tickets will be refunded at the point of purchase. If a show is postponed, your ticket will remain valid for the newly scheduled performance.
Do you offer gift certificates?
We don't offer gift certificates, but you may purchase tickets to a specific show to gift to someone else.
What is the ticket refund policy?
There will be no ticket refunds unless the show is cancelled or postponed. For additional questions about ticket refunds, please contact your point of purchase.
How late do your shows run until?
Shows will typically end between 11 p.m. and midnight, exact run times will vary per show.
What is the age policy? Does my child need a ticket?
We are an all-ages venue, any child over the age of one will require a ticket to the performance. Any events varying from our all-ages policy will be clearly indicated on the web landing and ticketing pages.
Where can I get information on booking private events?
You may contact the ACL Live Private Events Department at privateevents@acllive.com for information.
How can I be notified of upcoming events?
What is the layout of The Moody Theater?
The venue has a horseshoe configuration consisting of three levels of seating: floor, mezzanine, and balcony.
How do I request sign interpretation?
Please email our Operations Manager at mdelarosa@acllive.com no less than three weeks before the event date. Services are not guaranteed for all events, but we will make every effort to accommodate each request.
I took pictures at the Dell Smilebooth on the music porch at an event. Where can I find those shots?
To find the album from your particular event, please click here.
How do I request press access to an upcoming show?
For upcoming shows at ACL Live at the Moody Theater, please fill visit our press page. For upcoming shows at 3TEN, please visit 3TEN's press page.
Stay in Touch
Love live music as much as we do?
Sign up for exclusive updates, offers, and events to be the first to know all things ACL Live!