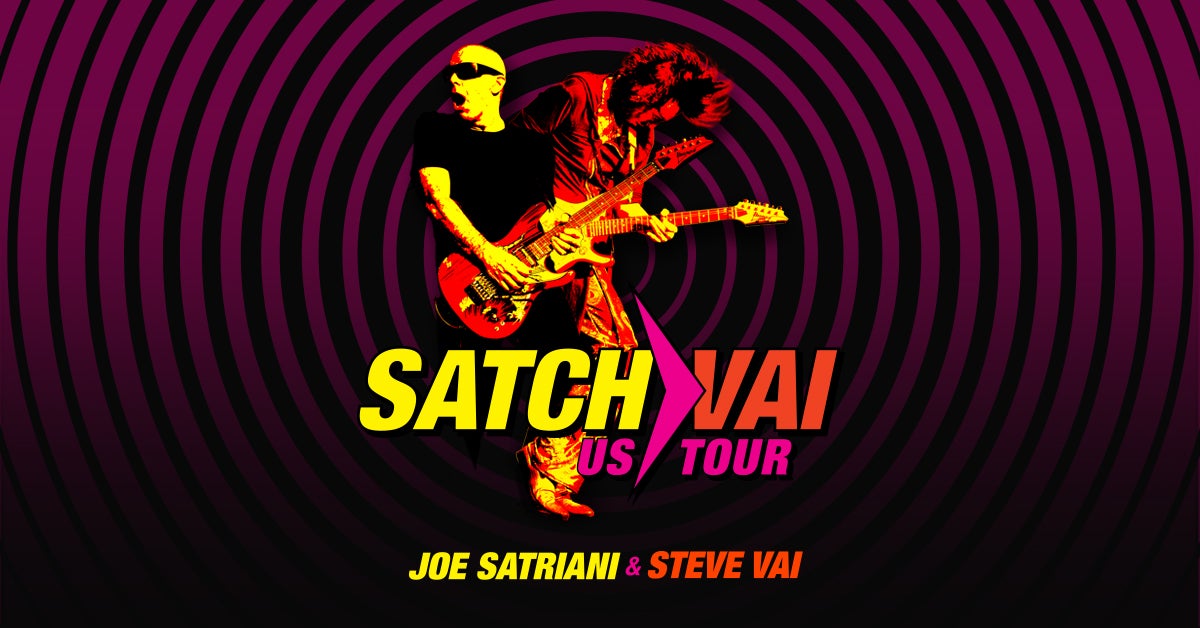 Last year in Singapore, on stage for the final performance of his two-year Unstoppable Momentum tour, Joe Satriani had both an epiphany and an out-of-body experience. "I realized that I was playing the guitar with my teeth an awful lot." Satriani says," which is not something I do as part of my everyday playing style. I thought, 'Why are you doing this? You're just scraping the enamel off your teeth.' It's as if something else, or somebody else, was driving me to do it."
All at once, Satriani seized upon this moment of self-realization as the springboard and creative center for his wildly ambitious 15th solo album, Shockwave Supernova. A lifelong science fiction fan – he's also developing a sci-fi animation series called Crystal Planet – Satriani created the alter ego of "Shockwave Supernova," the outlandish and extroverted 'performance side' of the normally shy and retiring guitar virtuoso. "Understanding that it was another character that would do these things on stage led me to the idea that it was time to transform him into something else," Satriani says. "Not to retire him, but to put him through a metamorphosis. He had come to the end of one road and had to see another way forward. That's what would guide the shape of the album."
One way of looking at Shockwave Supernova is that it's a concept album, but Satriani has never operated under such rigid restraints. The 15 songs on the new record would be 'inspired by' his concept, but they don't follow a direct narrative. "The real reason for the concept was to allow me to make creative decisions song by song, exploring unique moods and feelings as they relate to my central character," he says. "So in that way, it's both loose and free-form, but there is an overall tone, one of a rebirth."
Once Satriani had amassed a prime batch of songs and demos – no mean feat, as he's been known to stockpile anywhere between 30 to 50 ideas for any given record – the guitarist hunkered down at Skywalker Sound in Lucas Valley, California, the same studio where he's worked for the past few years, with co-producer and engineer John Cuniberti. Satch and Cuniberti share production on Shockwave Supernova, as they have on numerous albums – their shared history dates back to the guitar star's 1986 debut album, Not Of This Earth.
"In the studio, John is a great facilitator and creative catalyst as well as a fantastic engineer," Satriani says. "Because we're friends, he knows how to push my buttons. He's not afraid to tell me exactly how he feels, but he also knows when to not say anything, both of which are equally important. For this album, I told him that I wanted something special, an album that wasn't overly limited or compressed, but instead had a lot of dynamics to it. Making a powerful, high-fidelity record was very attractive to both of us."
At Skywalker, Satriani assembled the same trio of world-class musicians he had just traversed the globe with on tour: renowned keyboardist and guitarist Mike Keneally, a veteran of several Satch outings and recordings; along with drumming whiz Marco Minnemann and bass extraordinaire Bryan Beller. "I couldn't have asked for a better band to help bring these songs to life," says Satriani. "Marco and Bryan are at the top of their fields as players, but what's really great about them is their sense of adventure. I can say things to them like, 'I know this demo sounds a little like a metal song, but is there a way we can make it more arty?' And they'll be right there with me on the approach."
As for Keneally, Satriani regards him with a mixture of awe and envy. "He's one of those insanely talented guys who can play anything you throw at him, but he'll send it back to you six different ways," Satch marvels. "A couple of tours ago, I half-kidding said to [bassist] Allen Whitman, 'we have to get rid of this guy, he's making us look bad!" That's how good Mike is."
Minnemann and Beller handle the bulk of the rhythmic duties on Shockwave Supernova, but four cuts – the driving "Keep On Movin'," full of wondrous Satch guitar wizardry and Keneally's playful piano, "In My Pocket," a deliciously greasy, souped-up take on Swing, along with "Crazy Joey" (a deliriously effervescent romp) and "Scarborough Stomp" (a relentless upbeat rocker) – find Satriani joined by another powerhouse rhythm section: the esteemed drummer Vinnie Colaiuta (whose work includes the likes of Frank Zappa, Sting, Paul Simon, among others) and Jane's Addiction bassist Chris Chaney (whose resume includes Alanis Morrisette, Celine Dion and Rob Zombie, to name a few). The basic tracks for these numbers were initially recorded for Satch's Unstoppable Momentum album, but the guitarist and that disc's co-producer, Mike Fraser (credited with additional production on Shockwave Supernova), felt that they weren't yet fleshed out writing-wise.
"Those songs still called out to me," Satriani says, "so I went back in, added parts and edited out sections. John Cuniberti added percussion performances himself. He did stunning remixes, which really changed the nature of the songs and elevated them to a new place. They fit beautifully with the rest of the record."
When it comes to thrilling and soul-nourishing guitar artistry, Joe Satriani has set new standards for close to 30 years, and the six-string work on Shockwave Supernova brims with widescreen riffs, blockbuster solos, and other bravura fretboard performances. The gargantuan, earth-moving title track, the bruising "Cataclysmic" and "On Peregrine Wings" feature some of Satch's most spine-tingling and lyrical axe passages yet. "It's always thrilling when you respond not just emotionally and intellectually to a song you're playing, but physically too," Satriani says. "The beginning of 'On Peregrine Wings' is supposed to illustrate the feeling as if you suddenly had wings and you stepped off that precipice. That's how I felt as I played those opening chords. And then the song takes off and it's like you're flying, defying gravity – and man, that beat is fast!"
Satriani brings that same depth of emotion to a pair of striking ballads, "Stars Race Across The Sky" and "Butterfly And Zebra," and on the album's riveting closer, "Goodbye Supernova," Satch sends his alter ego off with both melancholy and celebration. "It's rebirth, it's an end and a beginning – it's filled with all those conflicting thoughts and feelings," Satriani says. "As I would write the piece, I just went with whatever mood I was in, so it's got anger, spite, joy and revelation."
On a host of other astonishing cuts, Satriani explores some fascinating new stylistic avenues, such as the intoxicating "All Of My Life," featuring bassist Bobby Vega and percussionist Tony Menjivar, which floats gently on a dreamy samba-ish beat, while the infectious groove of the super-melodic "San Francisco Blue" sees the guitarist stretching the boundaries of the shuffle. "'San Francisco Blue' really speaks to Marco's creativity," says Satch. "I brought it in with a big smile on my face, knowing that he has an aversion to shuffles. Once he got his head around it, he came up with something so classy and fresh. It just epitomizes how versatile he can be, swinging from something really trippy to straight blues, all in his own way."
It would be easy to call Shockwave Supernova a "masterpiece" or "the last word on guitar" – as the world's most commercially successful solo guitar performer, with six gold and platinum discs to his credit (including one more for his side band Chickenfoot) and a staggering 15 Grammy nominations, not to mention reigning grand champ of every six-string poll that's ever existed, Satch has consistently advanced the artistry of the instrument he dedicated himself to on September 18, 1970 (the day his idol Jimi Hendrix died).
"I feel like this record shows me playing better than ever," Satriani says. "But as much as some people may focus on technique and flash, I don't really. For me, it's always, 'Where is this music taking you? How is it making you feel inside? What is it communicating?' And if the music can represent your true spirit and speak to others,, then it's alive – and that's pretty great."
Showtimes
Friday,
May
3
8:00PM
8:00 PM
Stay in Touch
Love live music as much as we do?
Sign up for exclusive updates, offers, and events to be the first to know all things ACL Live!