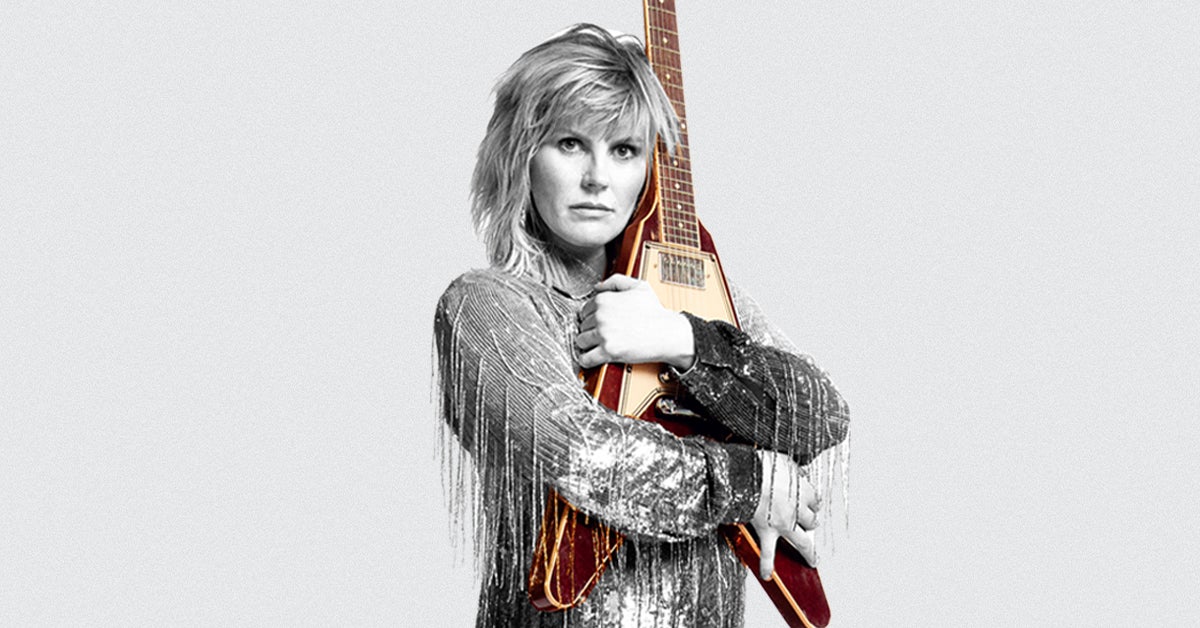 In the years that followed the release of her widely acclaimed 2015 album Midnight, Grace Potter considered never putting out a record again. Having endured the tumult of the breakup of her band and subsequent divorce— as well as far more joyful events like a new marriage and the birth of her first child— Potter continued writing on her own, but had no intention of sharing those songs with the world. "Too many things had happened, and I needed to take a step back," says the Vermont-born artist. "There were moments where I thought, 'Maybe I'll just go back to painting houses.'"
But by the end of 2017, Potter began to feel the call of the studio and soon started laying down tracks in the Topanga Canyon home she'd recently settled into with her husband, Midnight producer Eric Valentine. Unsigned and entirely free of any pressure to appease, Potter slowly carved out the songs that now make up Daylight: an album that emerges as her most emotionally revealing, musically daring, and exactingly realized body of work to date.
"In the past, I've aimed to write songs from a universal perspective; so that anyone who heard my music could relate, but that actually made it harder for me to take ownership of my own perspective. This new collection of songs were all written so that I could process – and be accountable for – my own life experience," Potter says. "I had just pulled the ripcord on my whole life. It was an incredibly jarring, private experience. When the dust settled a bit, the last thing I wanted to do was tell the whole world about it. It was a very gradual process of re-framing music and its purpose in my life. So when I finally started writing songs again - I did it for me."
Potter's seventh full-length and first release for Fantasy Records, Daylight was created in close collaboration with producer/mixer/engineer Eric Valentine. In constructing the album's wild collage of rock-and-roll, blues and soul, Potter tapped into her tightly honed musicianship while harnessing the untamed energy of her live performance for the very first time. "I had kind of resigned myself to the fact that I was always going to be better live than in the studio - but Eric was determined to tap into that raw energy that I have onstage." she says. "He chased down a few different approaches, ultimately creating a kind of live music venue setup in his studio, so I could feel the sound reflecting off the walls and interact with the band instead of just singing into a void."
Partly recorded in Potter's garage and living room, Daylight mostly came to life through a series of liveto-tape sessions at Valentine's Hollywood studio, Barefoot Recording. Along with capturing the undeniable vocal power Potter's previously shown in sharing the stage with The Rolling Stones, Robert Plant, and Neil Young, the album unfolds with an irresistibly vital sound birthed with the help of guests like Benmont Tench and Lucius. "Having all these incredible musicians playing live in the room with me gave the recording an urgency—like, this matters right now," Potter recalls.
On the album-opener "Love Is Love," Potter brings that urgency to a breathtaking slow-burner, her voice shifting from fragile to soaring with understated elegance. The very first piece written for Daylight, the track finds Potter fully surrendering to unbridled feeling—a process so unsettling, it temporarily put her off from attempting any further self-examination in song form. "'Love Is Love' is so confessional, it was terrifying. I dove deep into the darkest corners of my personal life." she says. "After we recorded the demo, I had no desire to keep on writing because the feelings were still too raw. I wasn't ready to dig any deeper."
Just one song later, Potter proves to have wholly conquered that fear, turning out a full-tilt rocker raging with pure passion. With her vocals taking on a gravelly intensity, "On My Way" telegraphs unhinged joy as Potter documents a particularly fraught moment from the past few years when she took a solo drive across the country. "Once you allow certain feelings in, there's no turning back." Freewheeling and cathartic, "On My Way" builds its frenetic tension in part from a riff that she and Valentine conjured up on their back porch. "Musically, it's meant to take you in two directions—there's a powerful tension between darkness & light. It's a theme that plays out a lot on this record, and that riff kinda just says it all." Potter notes.
Throughout Daylight, Potter imbues her songs with equal parts aching vulnerability and unapologetic self-possession. A stark piano ballad partly written while Potter was in the process of moving out of her home, "Release" transmits a quiet sorrow but ultimately finds its resolution in a lyric supplied by cowriter Mike Busbee ("I hope that someday/The sun will shine again/And you'll release me too"). On "Repossession," meanwhile, Potter sharply contrasts the song's sleepy rhythm, dreamy guitar tones, and unearthly harmonies with a brilliant lyrical barb ("And you say/That I threw it all away for nothing/But the only thing I threw away/Was you"). "We were driving through the Southwest; we stopped at a pawnshop and bought this busted old guitar with a missing string, dragged it out to these vast sand dunes and just started playing," Potter recalls in revealing the song's origins. "We'd been listening to a lot of classic country and AM radio on the road trip. These heart-wrenching songs spoke directly to what we were going through - and even though they were recorded over 50 years ago, it felt like they'd been reading my diary - so when we sat down to write, 'Repossession' just happened. Like it had always been there, just waiting for someone to show up and claim it."
While much of Daylight mirrors the emotional chaos of her recent past, the album also channels a certain soulful wonder on songs like "Every Heartbeat," an acoustic-guitar-laced serenade for Valentine and their infant son, Sagan. And on "Desire," Daylight drifts into an unpredictably playful mood, serving up a sweetly winking celebration of unabashed lust. "I've often cloaked my carnal themes in metaphor." Potter notes. "Ultimately that approach lost a lot value for me. I was tired of burying my desires, my truth, my pain…in euphemisms. I had to start over & rebuild my sense of self, so I went straight to the source with a song that celebrates the fact that we're all just animals."
On the title track and finale to Daylight, Potter offers up one of the album's most galvanizing and glorious moments: a shapeshifting epic that endlessly careens from simmering blues lament to brutally thunderous rock-and-roll anthem. "It's a song about the darkest time." Potter recalls. "We started composing that song because we wanted to honor the long, difficult process of finding peace. It's a musical bookmark; and a reminder that darkness doesn't last forever."
For Potter, the making of Daylight marks a return to the unfettered creativity she felt upon first discovering songwriting. "I really dug back into the roots of my creativity. When I was 12 or 13, I would sneak away to write songs because I didn't want anyone to hear me bearing all," she says. "It was all so honest, because I had no awareness of how people might perceive me." At the same time, she made use of the masterful chops she's developed over the course of her career, a 15-year run that's included playing nearly every major music festival (in addition to launching her own festival, Burlington's Grand Point North. "Throughout my career, I've always been a bit of a tinkerer; experimenting & exploring all these different facets of who I am through music," says Potter. "But this album isn't an experiment: it's a statement."
As she shares that statement with the world, Potter hopes that Daylight's fearless honesty might inspire each listener to embrace their own truth, in all its messy complexity. "This album is about being able to take complete ownership of your feelings, without any anger or hate or shame. And that can be absolutely terrifying— but once you get to the other side, it's exhilarating. It's the feeling of knowing that you're finally home."
Showtimes
Friday,
February
16
8:00PM
8:00 PM
Stay in Touch
Love live music as much as we do?
Sign up for exclusive updates, offers, and events to be the first to know all things ACL Live!